Guesthouse N

ý

p was created to be a cultural meeting place and events Center for artists, craftspeople, academics and friends.  And we enjoy having guests! Welcome to the B&b!
Lay Low and Agnes give a moment musical in Nýp
Opening of the art exhibition Dalir og hólar 
Ceramic design students from the Reykjavik School of Visual Art in Nýp. A course with the leadership of professional artist- and design teachers; glazing with natural minerals and firing the kiln   
Travel by Taste – a group of travellers visit Nýp 
Ceramic designer Ólöf Erla fired her ceramic jars in the Nýp ceramic kiln  
Art Project Dalir og hólar – LITUR (color)
Exhibition in Reykhólasveit and Dalabyggð, 
West Iceland
Artists: 
Bjarki Bragason, 
Eygló Harðardóttir, 
Logi Bjarnason
, Gerd Tinglum, 
Tumi Magnússon
Curators: Sólveig Aðalsteinsdóttir and Þóra Sigurðardóttir
Dalir og hólar–2014–LITUR uses abandoned houses and open spaces at eclectic sites in western Iceland to exhibit art work. Litur (color) is the theme. The artists wish to engage with the inhabitants of this remote area, to contribute to local culture, share international contemporary art, and for everyone to enjoy the area's spectacular scenery in the process.
For more information please click here.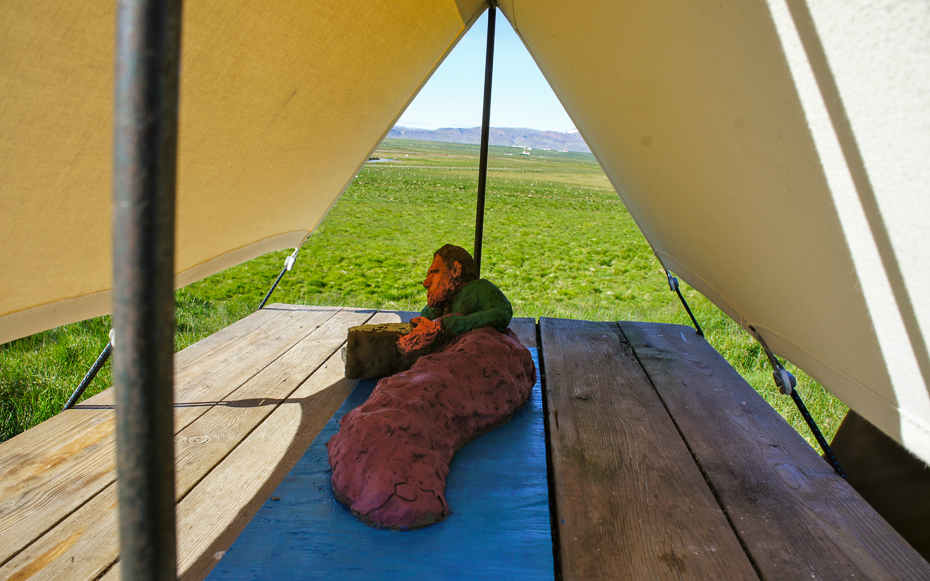 Art Project Dalir og hólar – 2012 – Journey, installation by Cai Ulrich von Platen, Staðarhóll, Iceland.
Nýp Seaweed Seminar  
The summer 2014 we had our first Seaweed Seminars, exploring vegetables of the sea–edible algae–along the coastline of Breiðafjörður with marine biologist Karl Gunnarsson, and afterwards enjoy the culinary possibilities of Icelandic seaweed with Kuniko Ibayashi Changchien. Kuniko is from Hokkaido, the seaweed capital of Japan, and she will be flying in from Tokyo to join us.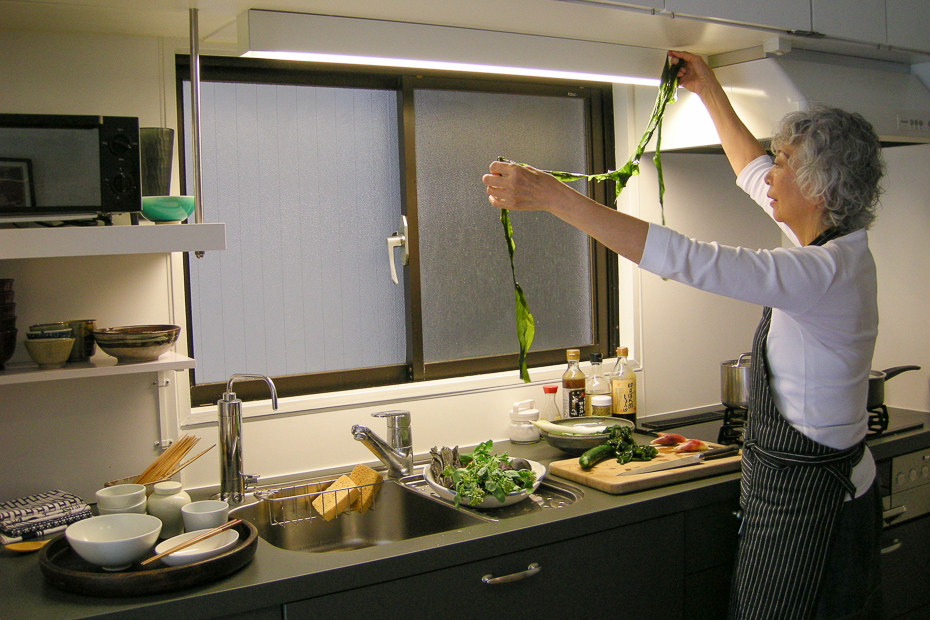 Kuniko Ibayashi Changchien prepares seaweed at home in Tokyo.
Read more about the Nýp Seaweed Seminar, Karl, Kuniko, and the program here.
Nýp Events Info
Please email Thora: thora@this.is
Or  call +354 896 1930  or  +354 891 8674.
Service may be intermittent so it's best to send sms text messages.
Bed & Breakfast reservations can also be made with booking.com
Driving to Guesthouse Nýp
Google Maps driving directions
It's very easy to drive to Nýp: go north on Ring Road N.1, turn left onto Route 60 heading north west, and left again on Route 590, a gravel road named Klofningsvegur. We are 15.8 km ahead on the left.
Google street view of Guesthouse Nýp
The nearest gas station or store is an hour's drive back on Route 60 to Búðardalur, or an hour's drive north to Reykhólar, or north east to Hólmavík.
---
Tel +354  896 1930 • +354 891 8674 • thora@this.is
Guesthouse Nýp, Skarðsströnd, 371 Dalabyggð, Iceland
(Route 590 – Klofningsvegur, West Iceland)