Velkomin sumarið 2018!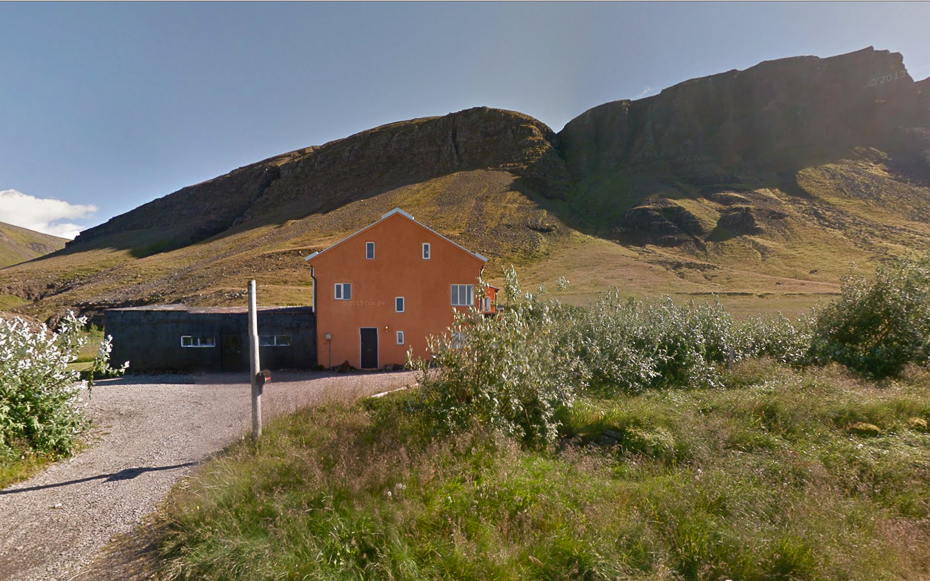 WELCOME!   Guesthouse Nýp is a family run bed and breakfast overlooking the Breiðafjörður Nature Reserve in the Western Region of Iceland. It's a beautiful 3 hour drive from Reykjavík, circa 200 km north across the Vesturland highlands. You are invited to book a room directly by contacting thora@this.is
The 2 guest rooms have panoramic views,  2 beds per room with cozy down comforters, a shared living room and bathroom. Breakfast, included in the price, consisting of home made bread and marmalades of wild berries and home grown rhubarb, by owners Þóra Sigurðardóttir and her husband Sumarliði Ísleifsson. Don't panic – we don't use last names in Iceland so it's Thóra and Summi.
Thora is an artist and educator, her work represented in the Iceland National Gallery, in Reykjavik Art Museum and in private and public collections in Iceland and abroad. Sumarlidi is a Phd. historian, writer, and editor, among recently published research is Iceland and Images of the North.
Reservations can be made with booking.com or by emailing thora@this.is
We can also be reached by mobile phone. Call +354 896 1930  or  +354 891 8674.
Service may be intermittent so it's best to send sms text messages.
Activities
At low tide, you can hunt for seaweed, mussels, sea urchins, and other delicious things from the sea. Breiðafjörður has a wealth of flora and fauna–the fjord was often called matarkista, or food chest. The geology in this area is also unusual for Iceland with clay strata, fossils, and special columnar basalt formations. Hiking around Nýp is fantastic with incredible panoramas from the mountain tops, and the air is so pristine that you can see over 100 km on a clear day!
Across the bay in the village of Reykhólar is the charming Breiðafjörður Boat Museum, a heated outdoor public swimming pool, organic seaweed production, and an artisanal salt maker. In Ólafsdalur, the first school of agriculture in Iceland was founded in Gilsfjörður in 1880, the beautiful 2 floor wooden schoolhouse from 1896 still standing in the spectacular surroundings.
In Hólmavík, an hour's drive to the east side of the West Fjords peninsula, you will find an excellent Museum of Icelandic Sorcery & Witchcraft. Their restaurant is delicious, but does not serve witches brew or fried toads legs yet.
The backdrop to many of Iceland's most famous medieval literature and manuscripts are in this region, such as Laxdæla Saga and the Flatey Book (Flateyjarbók is named after Flat Island in Breiðafjörður), which includes the Saga of the Greenlanders where the discovery of the New World is described in detail, as well as the amazing adventures along the way of Erik the Red and Leif Erikson. The medieval writer Sturla Thordarson´s residency, Stadarhóll, was in the vicinity of Nýp.
If you have a moment, please see the Marine Protected Area Map and the UNESCO World Heritage description of the Breiðafjörður Nature Reserve.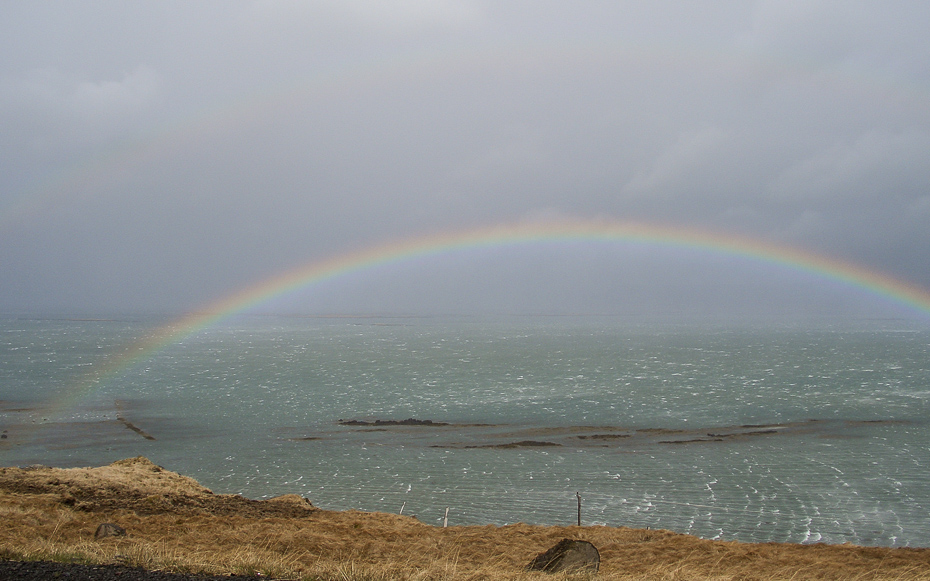 GUESTHOUSE NÝP WAS CREATED TO BE A CULTURAL MEETING PLACE AND EVENTS CENTER.  
Saturday  7th July 2018 at 15:00
NÝP DESIGN 1936-2018  The summer 2018 we will in our new exhibition space present an exhibition on the design and building of the old farmhouse/barn/cowshed  in 1936 –  the developement of the buildings after 2001 – into the STUDIOBUA  2018 design process and rebuilding of the cowshed. The presentation will be made by drawings, models and photos.
Saturday 14th July 2018 at 15:00
THE WOMEN behind the writer Jón Thoroddsen (1818-1868)  Helga Kress Professor Emeritus University of Iceland gives a lecture (in icelandic) on the women power behind the icelandic poet and writer Jón Thoroddsen.
BELOW: examples of earlier events:
Nýp Seaweed Seminar

The summer 2014 we had our first Seaweed Seminars, exploring vegetables of the sea–edible algae–along the coastline of Breiðafjörður with marine biologist Karl Gunnarsson, and afterwards enjoy the culinary possibilities of Icelandic seaweed with Kuniko Ibayashi Changchien. Kuniko is from Hokkaido, the seaweed capital of Japan, and she will be flying in from Tokyo to join us.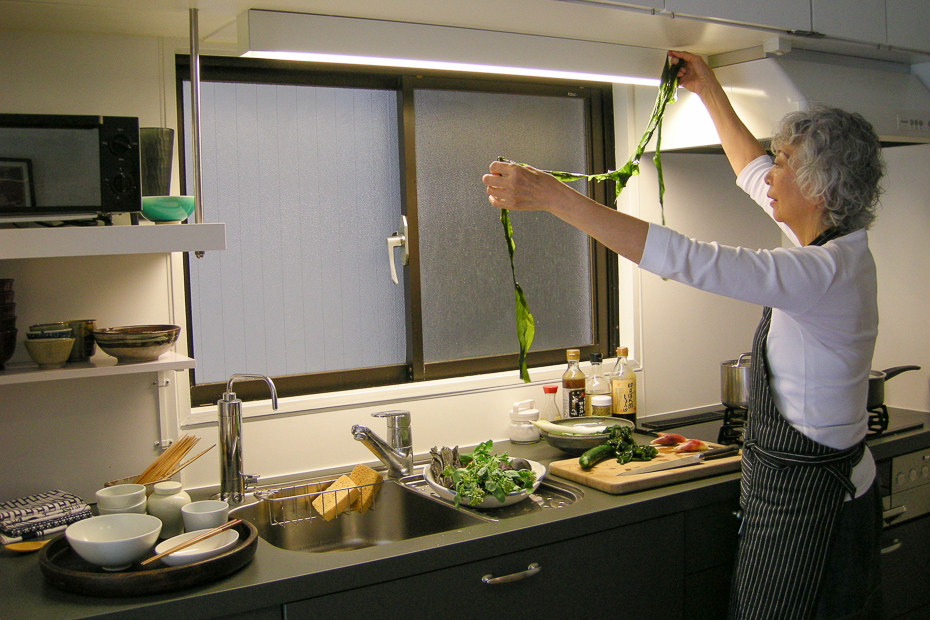 Kuniko Ibayashi Changchien prepares seaweed at home in Tokyo.
Read more about the Nýp Seaweed Seminar here.
Art Project Dalir og hólar – 2014 – LITUR (color)
Exhibition in Reykhólasveit and Dalabyggð, 
West Iceland
Artists: 
Bjarki Bragason, 
Eygló Harðardóttir, 
Logi Bjarnason
, Gerd Tinglum, 
Tumi Magnússon
Curators: Sólveig Aðalsteinsdóttir and Þóra Sigurðardóttir
Dalir og hólar–2014–LITUR uses abandoned houses and open spaces at eclectic sites in western Iceland to exhibit art work. Litur (color) is the theme. The artists desire to engage with the inhabitants of this remote area, to contribute to local culture, share international contemporary art, and for everyone to enjoy the area's spectacular scenery in the process.
For more information please click here.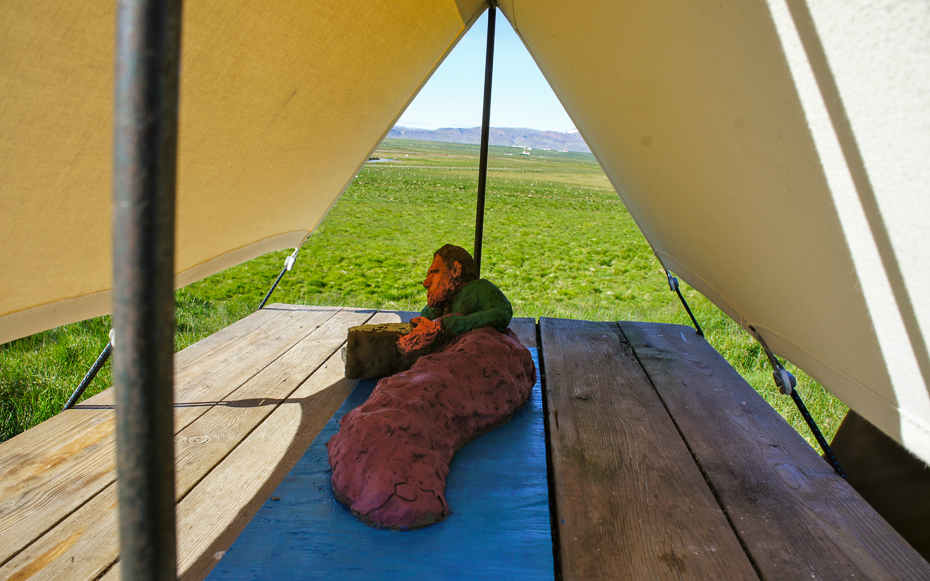 Art Project Dalir og hólar – 2012 – Journey, installation by Cai Ulrich von Platen, Staðarhóll, Iceland.
Driving to Guesthouse Nýp
Google Maps driving directions
It's very easy to drive to Nýp: go north on Ring Road N.1, turn left onto Route 60 heading north west, and left again on Route 590, on the sign: Skarðsströnd – a gravel road named Klofningsvegur. We are 15.8 km ahead on the left.
Google street view of Guesthouse Nýp (the photo at the top is from google street view)
Please note that the region is sparsely populated–as in you have probably never seen anything quite like this before–so the nearest gas station or store is an hour's drive back on Route 60 to Búðardalur, or an hour's drive north to Reykhólar or north east to Hólmavík.
---
Tel +354  896 1930 • +354 891 8674 • thora@this.is
Guesthouse Nýp, Skarðsströnd, 371 Dalabyggð, Iceland
(Route 590 – Klofningsvegur, West Iceland)