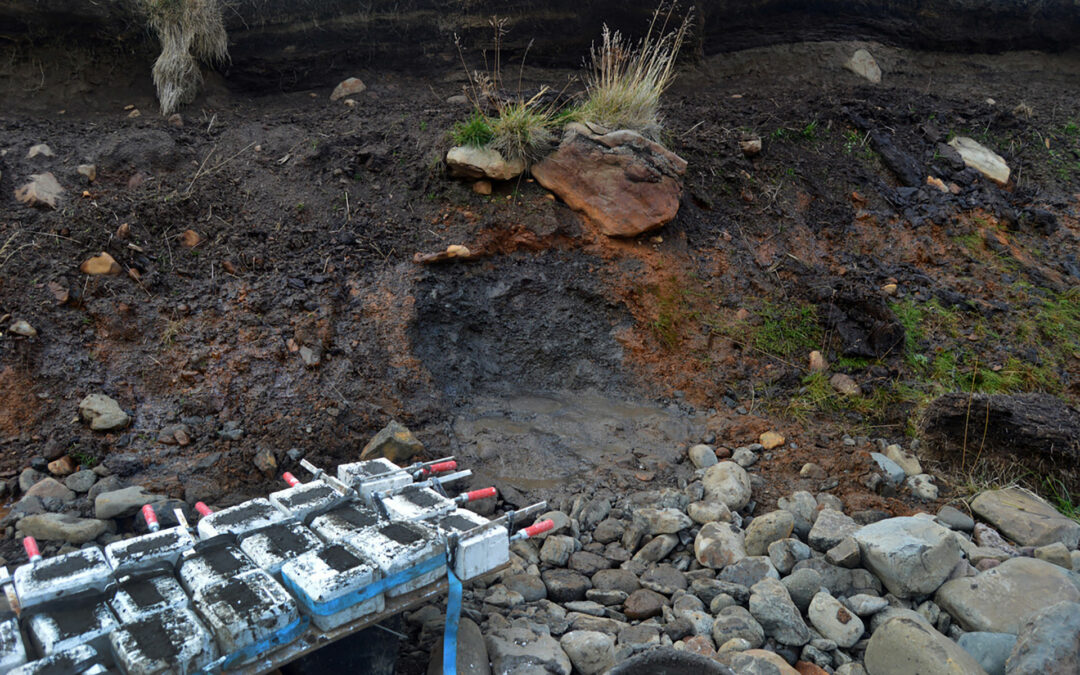 Sýningin TIL STAÐAR er innsetning í náttúru Skarðsstrandar. 
Innsetningin í Sýningarrými Nýpur inniheldur þrjú ljósmyndaverk Katrínar Sigurðardóttur. En einnig heimildir um framkvæmd verkanna í formi ljósmynda og myndbands. Til STAÐAR í Sýningarrými Nýpur er ein af þremur innsetningum/sýningum sem Katrín hefur unnið í jafnmörgum landsfjórðungum: Við Hoffell undir Vatnajökli, á Skarðsströnd við Breiðafjörð og í Svalbarðshreppi í Norður-Þingeyjarsýslu. Hugmyndin að baki verkinu tengist samspili hráefnis á ákveðnum stað, mannlegs inngrips og ferlum náttúrunnar sjálfrar.
Katrín Sigurðardóttir hefur á 30 ára ferli sínum sýnt skúlptúra, teikningar, ljósmyndaverk og stórar innsetningar sem leitast við að hafa áhrif á/umbreyta reynslu og upplifun áhorfandans. Undanfarin ár hefur hún unnið með frumferla og efni jarðarinnar í verkum sínum.
Katrín hefur átt velgengni að fagna innan listheimsins og verk hennar hafa verið sýnd hér heima og víða erlendis. Hún hefur m.a. verið fulltrúi Íslands á Feneyjatvíæringnum, á Sao Paulo Tvíæringnum í Brasilíu, Momentum í Noregi og Rabat tvíæringnum í Marokkó. Einkasýning hennar í Metropolitan safninu í New York borg árið 2010 vakti mikla athygli.
---
Sýning hennar í Sýningarrýminu að Nýp mun standa frá 22 maí og fram í október 2021. Vinsamlega hafið samband og bókið heimsókn: nyp@nyp.is
The exhibition TIL STAÐAR is an installation in the natural environment of Skarðsströnd.
Through photographs and video, the exhibition in Nýp Project Space documents
the making of the installation. TIL STAÐAR is one of three exhibitions/land-artworks by Katrín Sigurðardóttir in three separate regions of Iceland: Hoffell at Vatnajökull, Skarðströnd in Breiðafjörður and Svalbarðshreppur in Norður-Þingeyjarsýsla.
The principal theme of the work is the interplay between local resources, human intervention and the processes of nature itself.  The exhibition in Nýp Project Space consists of photographic works and an archive,
documenting the making of the works.
During her 30-year career, Katrín Sigurðardóttir has exhibited sculptures, drawings,
photographic art and large-scale installations that attempt to transform the subjective
experiences of the viewer. In recent years, she has worked with fundamental processes and the materials of the earth in her art.
During her successful career, Katrín's work has been exhibited widely, both in Iceland and abroad. She represented Iceland at the Venice Biennale, the São Paulo Biennale in Brazil, Momentum in Norway, and the Rabat Biennale in Morocco. Her 2010 solo exhibition at the Metropolitan Museum of Art in New York attracted widespread attention.
---
Katrín's exhibition will be in Nýp Project Space from May 22 into fall 2021.
Welcome to visit the exhibition by appointment: nyp@nyp.is
Þýð. Steingrímur Teague