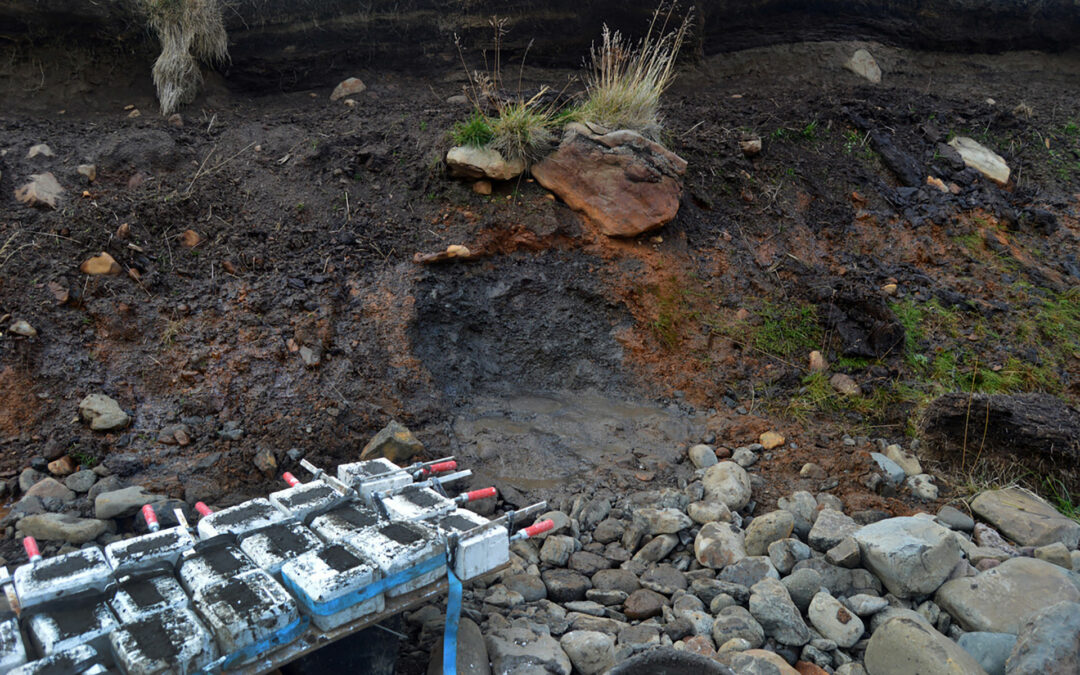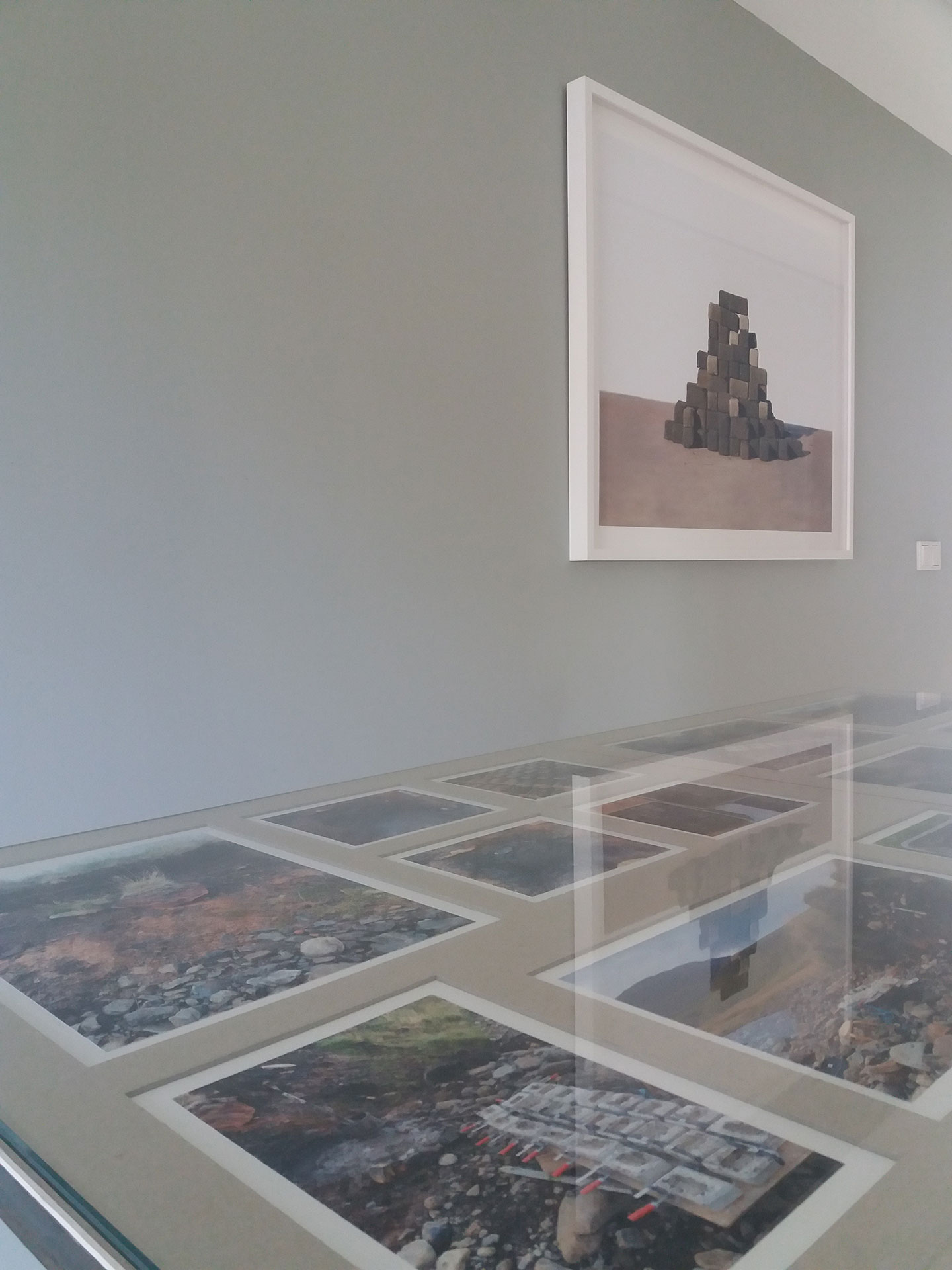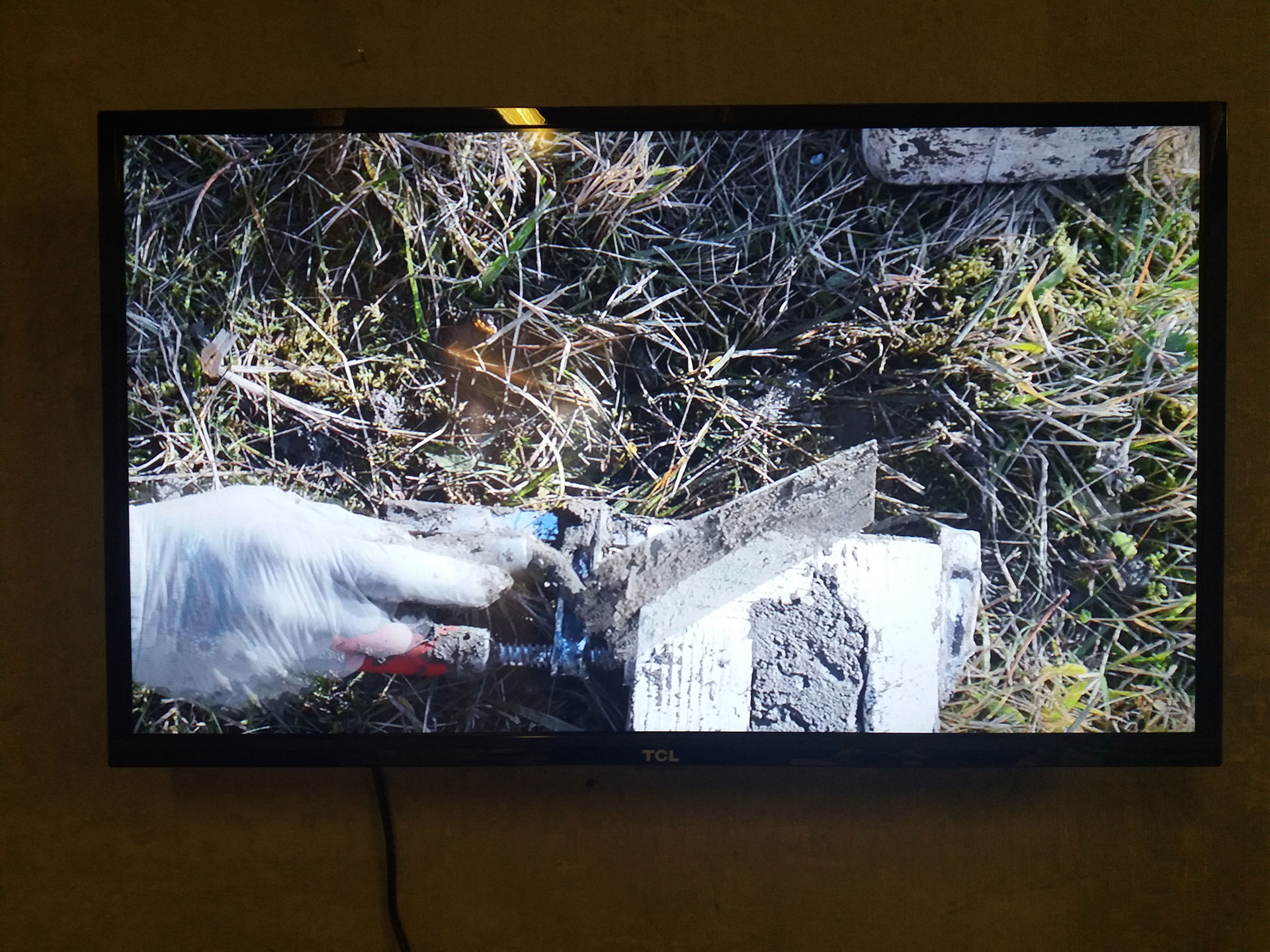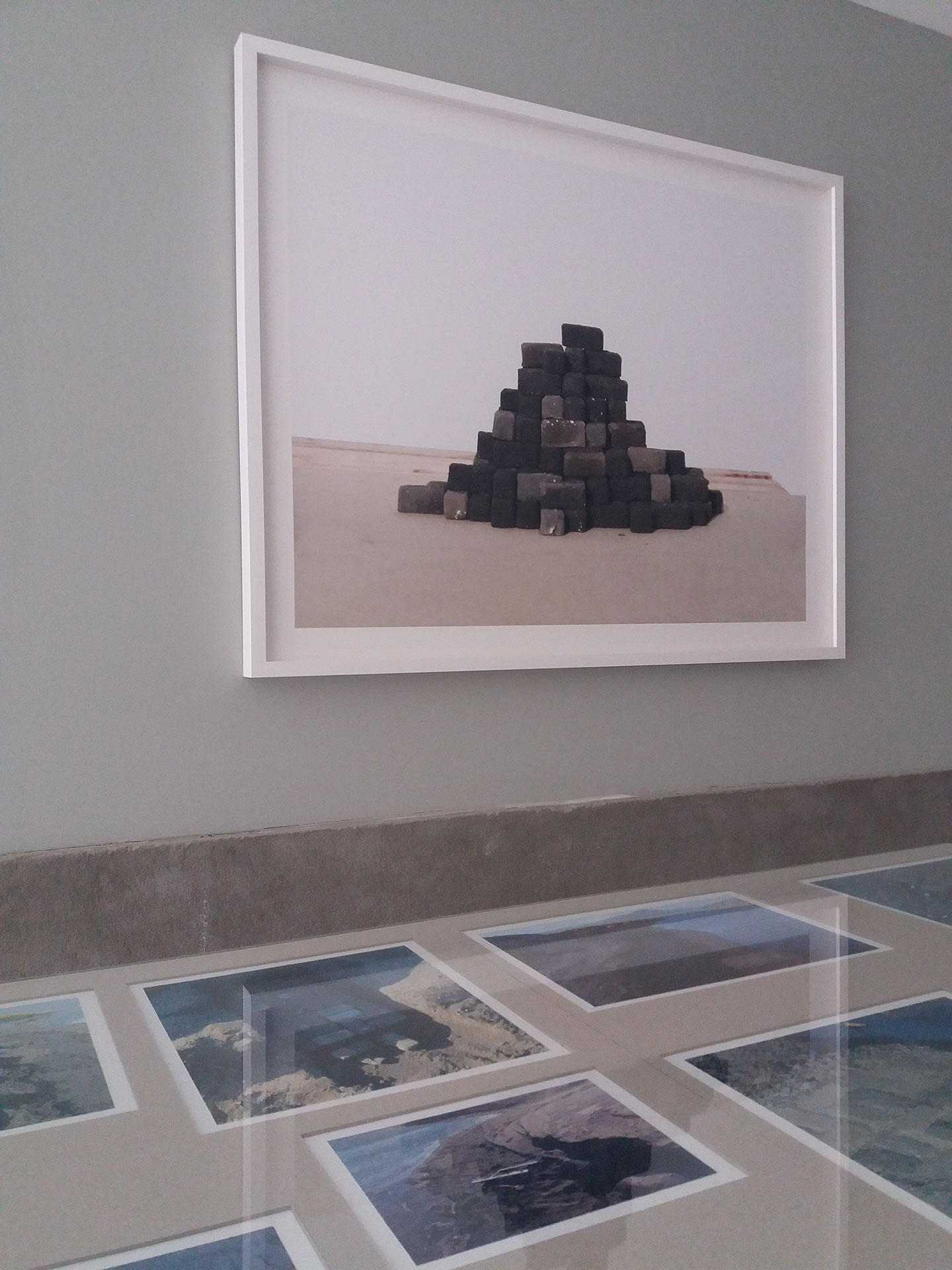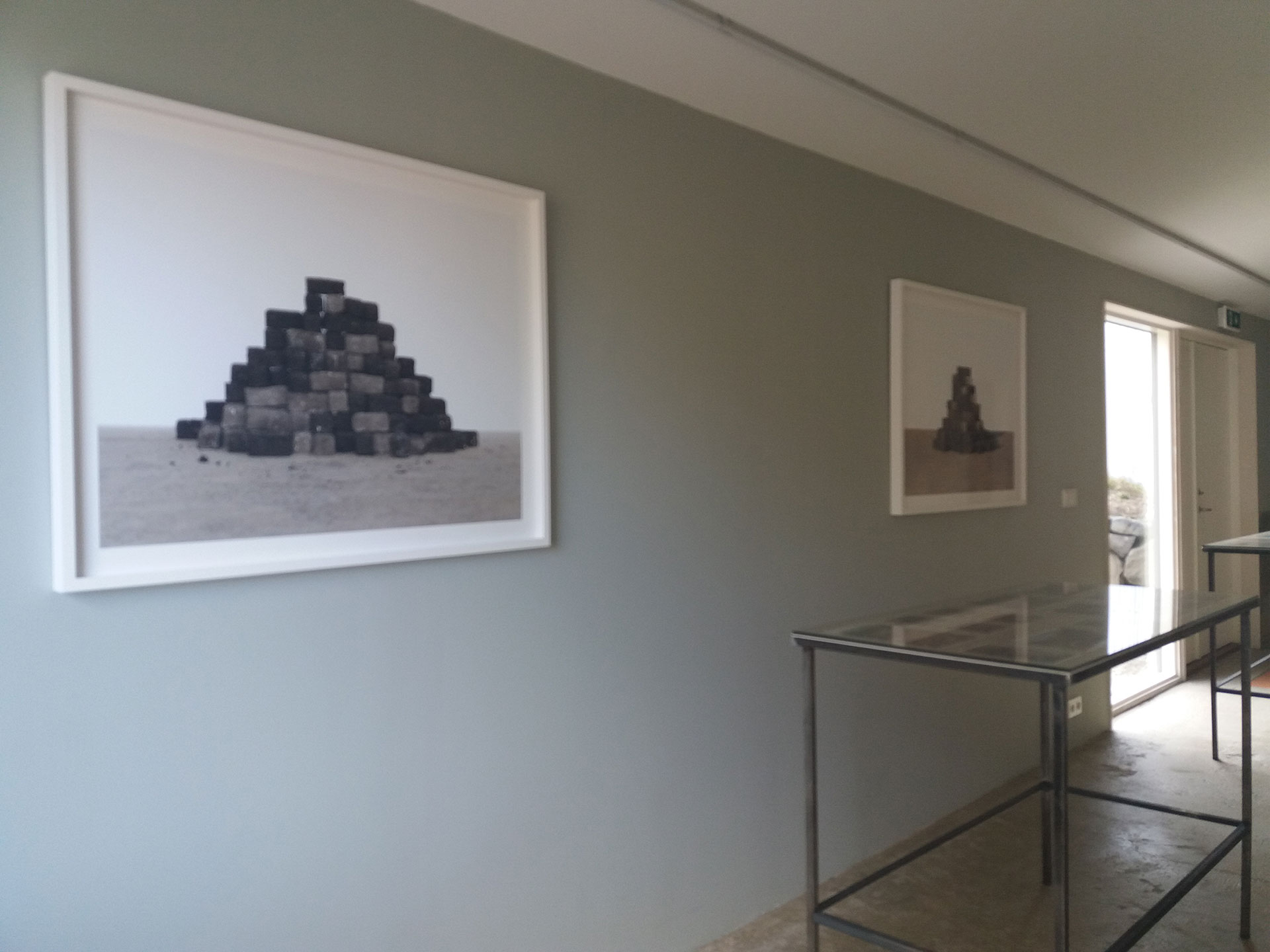 Til STAÐAR er ein af þremur innsetningum/sýningum sem Katrín hefur unnið í jafnmörgum landsfjórðungum hér á landi árið 2020-21: Við Hoffell undir Vatnajökli, á Skarðsströnd við Breiðafjörð og í Svalbarðshreppi í Norður-Þingeyjarsýslu.
Hugmyndin að baki verkinu tengist samspili hráefnis á ákveðnum stað, mannlegu inngripi og ferlum náttúrunnar. Verkið er sumarsýning ársins 2021 í Sýningarrými Nýpur á Skarðsströnd.
TIL STAÐAR er innsetning í náttúrulegt umhverfi. Á sýningunni eru þrjú ljósmyndaverk ásamt heimildum um gerð verkanna, myndband og ljósmyndir á borðum. 
Undanfarin ár hefur Katrín unnið með jörðina og frumferla náttúrunnar í verkum sínum. Þessir ferlar, sem eru hefðbundin viðfangsefni fornleifafræði og jarðfræði, bera fortíðinni og minni efnisins vitni, sýna brot af sögu jarðar og mannkyns. Katrín notast við aðferðafræði námuvinnslu þar sem hún beinlínis nemur efni úr jörð og nýtir framleiðsluferla og flutningsaðferðir sambærileg við aðferðir sem tengdar hafa verið við iðnvæðingu og nýlendustefnu.
Í verkinu TIL STAÐAR  skilur á milli að Katrín skilar efninu aftur til upprunastaðar. Katrín hefur gefið efninu form byggingareininga/bygginga um stund og varðveitt augnablikið í ljósmyndunum. Síðan raðar hún einingunum að nýju á þann stað þar sem hún gróf efnið upp og við tekur náttúruleg þróun; jörð snýr aftur til jarðar. 
Í verki Katrínar má lesa marglaga frásögn um örlög manneskjunnar.  Stef sem á öllum tímum hafa verið viðfangsefni lista og menningar. Forgengileiki tilverunnar og getan – eða vanmátturinn – til að horfast í augu við hann. En í verkinu birtist jafnframt áhugaverðar vísanir – og spurningar – um efni listaverka, gildi listrænnar ástundunar, markaðsásælni samtímans, virði listaverka, kostun og fjármagn. Undir hvaða kringumstæðum þrífast listir og menning? Hvað þarf til? Ratar listin til sinna eða er hún á tuttugustu og fyrstu öld með öllu undirorpin fjármagni stórfyrirtækja?
Við látum gestinum eftir að finna sínar tengingar við verk Katrínar, vissulega opnar það hugann fyrir margvíslegum hugrenningum. 
Katrín Sigurðardóttir hefur á 30 ára ferli sínum sýnt skúlptúra, teikningar, ljósmyndaverk og stórar innsetningar sem leitast við að hafa áhrif á/umbreyta reynslu og upplifun áhorfandans. Katrín hefur átt velgengni að fagna innan listheimsins og verk hennar hafa verið sýnd hér heima og víða erlendis.
Hún hefur m.a. verið fulltrúi Íslands á Feneyjatvíæringnum, á Sao Paulo Tvíæringnum í Brasilíu, Momentum í Noregi og Rabat tvíæringnum í Marokkó. Einkasýning hennar í Metropolitan safninu í New York borg árið 2010 vakti mikla athygli. Verk hennar eru í eigu Listasafns Íslands og Listasafns Reykjavíkur en einnig  stórra alþjóðlegra safna s.s. Metropolitan Museum í New York.
Sjá viðtöl við Katrínu um verk hennar hér: openspace.sfmoma.org and in Places Journal.Places Journal.
---
Sýning hennar í Sýningarrýminu að Nýp mun standa frá 22 maí og fram í október 2021. Vinsamlega hafið samband og bókið heimsókn: nyp@nyp.is
Nýp Project Space presents Katrín Sigurðardóttir´s work
TIL STAÐAR
TIL STAÐAR is one of three installations/exhibitions by Katrín Sigurðardóttir in three separate regions of Iceland: Hoffell at Vatnajökull, Skarðströnd in Breiðafjörður and Svalbarðshreppur in Norður-Þingeyjarsýsla.
The artwork TIL STAÐAR is an installation in the the natural environment. The exhibition consists of three photographic works, and an archive documenting the making of the works. The underlying theme of the work is the interplay between local resources, human intervention and the processes of nature itself. The title TIL STAÐAR literally means "Towards a Place", but can also mean "present", "in-place", and even "a dedication to a place". The work comprises the 2021 summer exhibition of the Nýp Project Space.
In recent years Katrín has in her art worked with the elemental processes of nature and the earth. These processes, traditionally the subjects of archaeology and geology, bear witness to the past, demonstrate the memory in the material itself, and reveal fragments of the history of the earth and humankind. Katrín uses techniques borrowed from industrial mining; she extracts materials from the earth, using processes and transportation methods that have been linked to industrialisation and colonialism.
However, in TIL STAÐAR, Katrín's methods differ in that she returns the materials back to their point of origin. For a brief moment in time, she gives her material the form of a building, made of unfired bricks/paving stones, and preserves this in photographs. Then, she arranges the bricks back at the place from which they were taken, and the processes of nature take over from there; earth returns to earth.
In Katrín's work, there is a multilayered narrative to be read about the lot of humanity – themes that art throughout history has engaged with: the transience of human existence, and the ability – or inability – to face that transience. The work also poses some interesting questions concerning today's fixation on the market, the perceived worth of art, the art material and arts financing and capital. Under what conditions does art and culture flourish? Does art always find its way to its audience, or is it at all times dependent on corporate patronage?
During her 30-year career, Katrín Sigurðardóttir has exhibited sculptures, drawings, photographic art and large-scale installations that attempt to affect and transform the subjective experiences of the viewer. Katrín's work has been exhibited widely, both in Iceland and abroad. She represented Iceland at the Venice Biennale, the São Paulo Biennale in Brazil, Momentum in Norway, and the Rabat Biennale in Morocco.
Her 2010 solo exhibition at the Metropolitan Museum of Art in New York attracted widespread attention. The National Gallery of Iceland and the Reykjavík Art Museum own works by Katrín, as do as international museums such as the aforementioned Metropolitan Museum in New York.
She represented Iceland at the Venice Biennale, the São Paulo Biennale in Brazil, Momentum in Norway, and the Rabat Biennale in Morocco. Her 2010 solo exhibition at the Metropolitan Museum of Art in New York attracted widespread attention.
See interviews:
openspace.sfmoma.org and in Places Journal.
---
Katrín's exhibition will be in Nýp Project Space from May 22 into fall 2021. Welcome to visit the exhibition by appointment: nyp@nyp.is
Þýð. Steingrímur Teague
Sýningin er gerð möguleg með stuðningi Myndlistarsjóðs, Starfslaunasjóðs myndlistar, Samtökum sveitarfélaga á Vesturlandi, handverksfólki og nágrönnum í héraði.
The exhibition is made possible with the support of The Icelandic Visual Arts Fund, The Visual Art State Grants, The West Iceland Cultural Council and the neighbours at Skarðsströnd