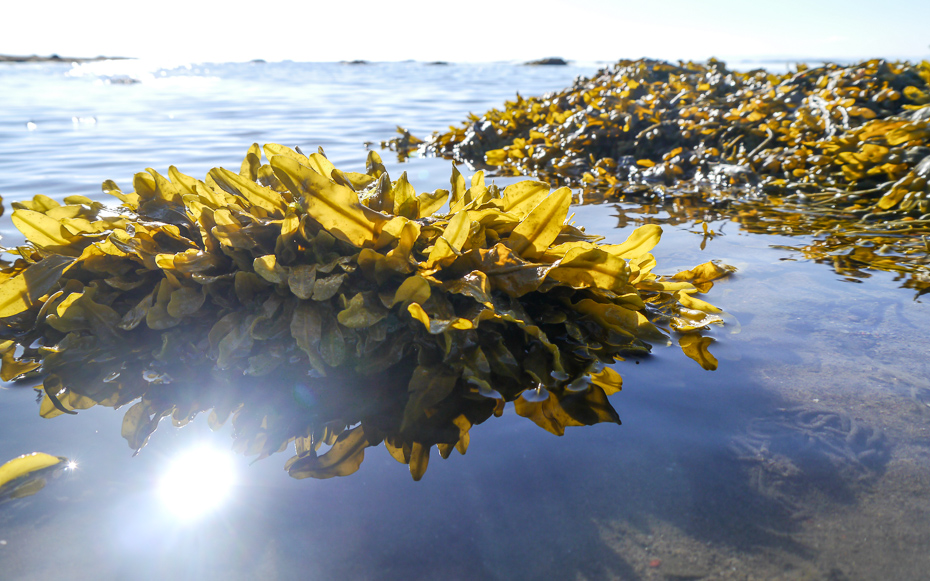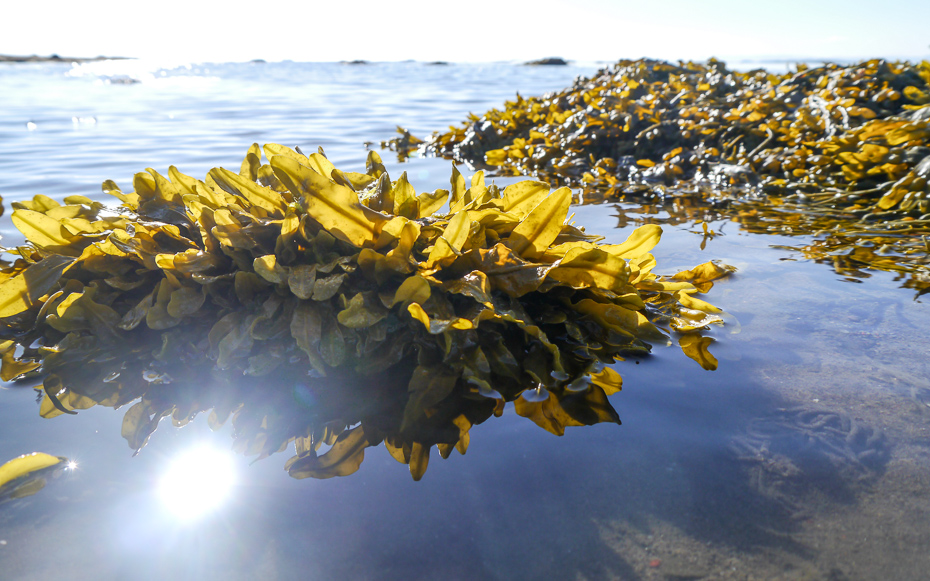 Nýp Seaweed Seminars
Sunday, July 13, & Tuesday, July 15.
This summer we'll have our first Seaweed Seminars, exploring vegetables of the sea–edible algae–along the coastline of Breiðafjörður with marine biologist Karl Gunnarsson, and afterwards enjoy the culinary possibilities of Icelandic seaweed with expert Kuniko Ibayashi. Kuniko will be flying in from Tokyo to join us.
Agenda
12:00 Meet at Tjarnarlundur next to Staðarhólskirkja, 1.6km west on Route 590 – Klofningsvegur
12:15 Walk & discover marine life along Salthólmavík beach (close to the Ásar farm)
13:00 Harvest seaweed with Karl
14:30 Refreshments @ Guesthouse Nýp
15:00 Seaweed presentation by Karl
16:30 Cooking demonstration by Kuniko and discover "umami"
18:30 Seaweed dinner
Please bring your rubber boots, rain gear, garden/kitchen scissors and/or a short blade pocket knife.
The number of participants for each seminar will be limited to 12 persons.
Cost & Reservations
ISK 15,000 per person.
To join a seminar, please email Thora: thora@this.is
Edible Algae–Vegetables of the Sea–with Karl Gunnarsson
Karl Gunnarsson, Iceland´s foremost marine biologist, has been studying the sea life for many decades. Formerly a professor of marine biology at the University of Iceland, he now works at Hafro, the Marine Research Institute – Hafrannsóknastofnun, and recently published an insightful study of the biodiversity and generic relationships of foliose Bangiales (Rhodophyta-red algae) in Iceland and the Faroe Islands. When not diving in extreme arctic conditions to discover new life forms around hydrothermal vents, Karl collects seaweed cookbooks and his favorite is Dr. Prannie Rhatigan´s Irish Seaweed Kitchen.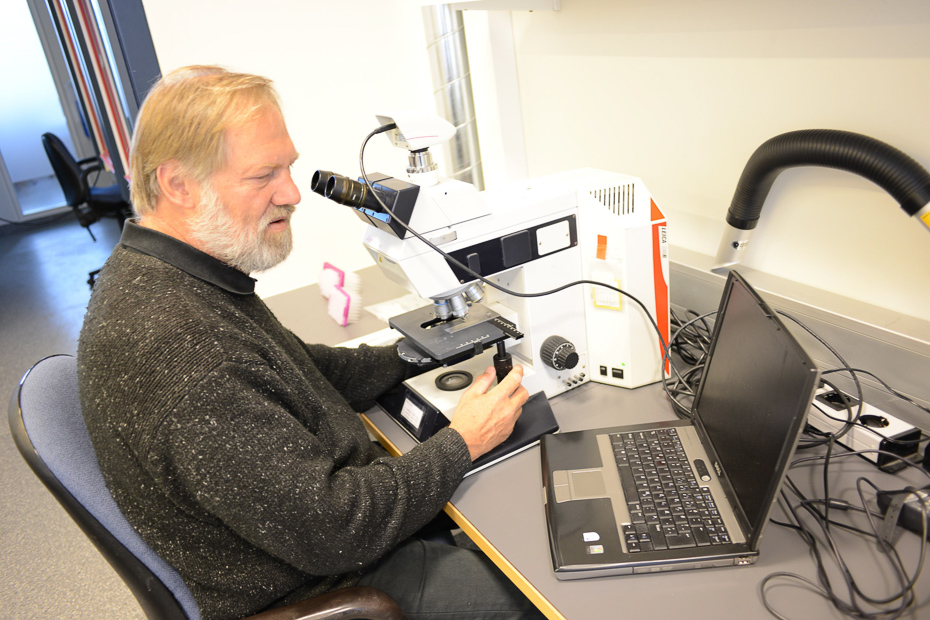 Karl Gunnarsson, marine biologist, at work.
Fusion Cooking with Kuniko – Culinary Seaweeds and the Umami of Iceland
Kuniko Ibayashi Changchien, a private chef and culinary teacher based in Tokyo, is from Hokkaido–Japan's most important seaweed producing Island in the North Pacific. She began her training in Sapporo, a city renowned for its food, and expanded her repertoire and knowledge in Kyoto, the culinary and cultural capital of Japan. Curiosity and adventure then took her to the United States where she lived for 35 years in New York City, until returning to Japan in 2008.
Kuniko's private cooking classes and gourmet excellence became renowned in America amongst connoisseurs of delicious foods. Many people still think Japanese food is just sushi, but raw fish tapped on rice could not be further from the simple truths and sublime tastes of real Japanese cooking. A dynamic interaction of flavors in a natural, healthy, balanced, and beautiful style is the essence of Japanese cuisine.  It begins with dashi, a stock made from kombu seaweed and bonito flakes.  The most important taste created in kombu dashi is umami, a 5th taste distinct from sweet, sour, bitter or salty, uniquely expressed in Japanese.
Kuniko's cooking is the essence of umami, and as mysterious as this may sound, it's deceptively simple to discover this wonderful taste with fresh local ingredients when combined harmoniously with seaweed. Her international experience blends umami with foods of the world and we are honored to have Kuniko share her fusion culinary expertise with us at Nýp's Seaweed Seminars.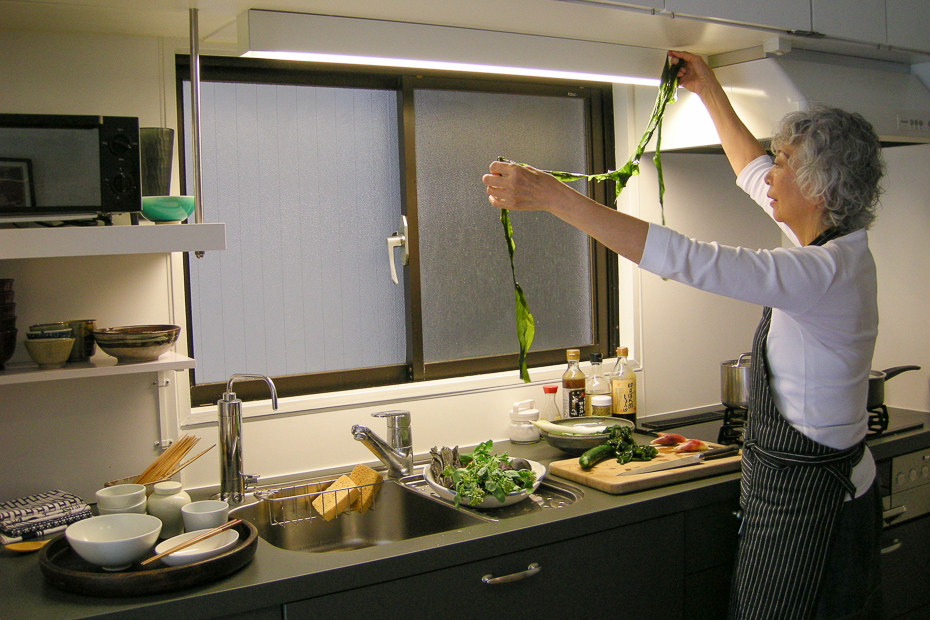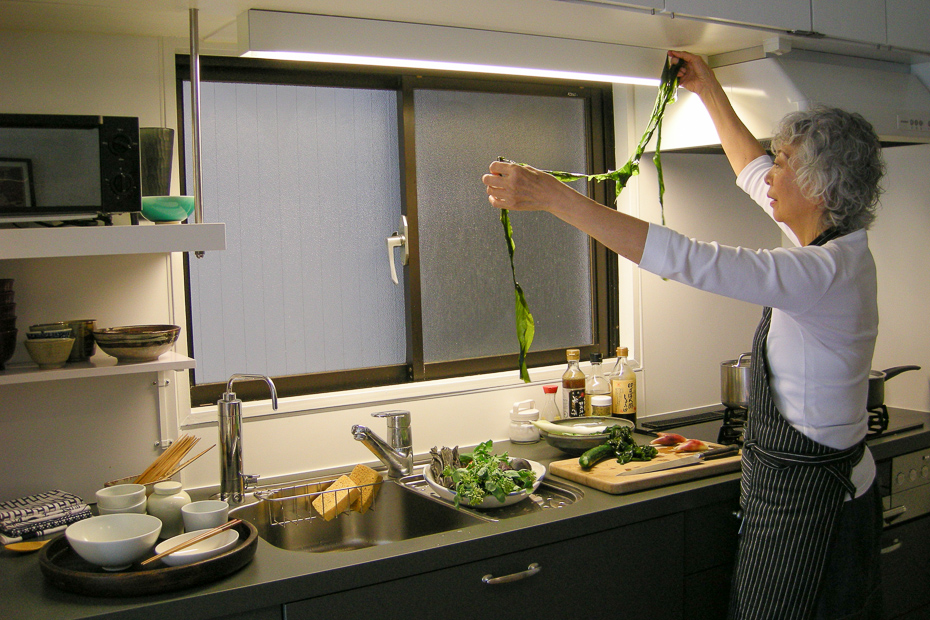 Kuniko Ibayashi Changchien prepares seaweed at home in Tokyo.
Kuniko´s Recipes
History of Seaweed in Iceland
Seaweed has been used in Iceland for more than 1000 years in more ways than you can imagine, read all about it!
The Only Seaweed Baths in Iceland
Just across the bay in Reyjhólar
Delicious and Interesting Seaweed Books
Prannie Rhatigan´s Irish Seaweed Kitchen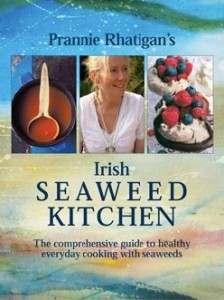 An Ocean Garden: The Secret Life of Seaweed by Josie Iselin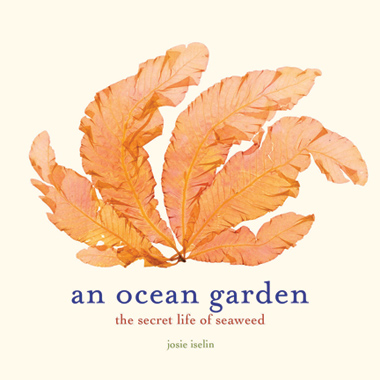 Seaweeds: Edible, Available & Sustainable by Ole G. Mouritsen
Ole G. Mouritsen is a scientist and professor of biophysics in Denmark
with a passion for research communication and the science of cooking.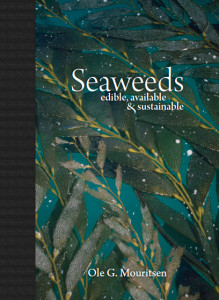 He also wrote the excellent books Umami and Sushi
Seaweed and Umami links
Everything you wanted to know about seaweed but where afraid to ask
Kelpie seaweed beer from Scotland
Seaweed Producers in Iceland
Seaweed Iceland, Grindavík
A generous sponsor of this seminar, and an über conscientious seaweed farmer. Thank you!
Grettir harvests by hand kombu, wakame and dulse from the the most pristine coastlines of the Reykjanes Peninsula. The harvesting is totally sustainable and increases healthy growth of the seaweeds, just like terrestrial forestry does. Tidal flows of the Reykjanes coast and its isolation from human contaminations makes the region especially suited for pure seaweed growth and harvesting. Seaweed Iceland dries their algae with geothermal heat at low temperatures to preserve the nutritional values and full flavors. They also have powders and granules for many uses.
Cultivates seaweed and mussels in Stykkishólmur (Breiðarfjorður) and supplies kombu to Noma.dk
Just across the bay in Reykhólar.
---
 Tel +354  896 1930 • +354 891 8674 • thora@this.is
Guesthouse Nýp, Skarðsströnd, 371 Dalabyggð, Iceland
(Route 590 – Klofningsvegur, West Iceland)